Custom logo
Users with an Unlimited plan can use their own logos. To use your own logo, you have to:
Upload the logo to a place where it is available publicly online. For example, on Cloudflare, Google Drive or Dropbox

Make the uploaded logo publicly-available. Usually, by default, when you upload a file onto these services, it is private by default. Make it publicly-viewable, and copy the public link to it.

For Google Drive only: The public link will appear as https://drive.google.com/file/d/[some long ID]/view. You'll need to copy that some long ID and insert it into this 2nd URL instead: https://drive.google.com/uc?export=view&id=[some long ID]. Then, copy that whole 2nd URL and paste it as described in Step 3.

Paste the link to the

Logo URL

field in Graph Editor. This is the link from which Rhumbl will try to fetch the image.
Customize the click target of the logo in the

Target URL

field. This must start with https:// or http://. When a person clicks on the logo, a new window with that link will open. Usually, you'll want this to be the homepage of your company or organization.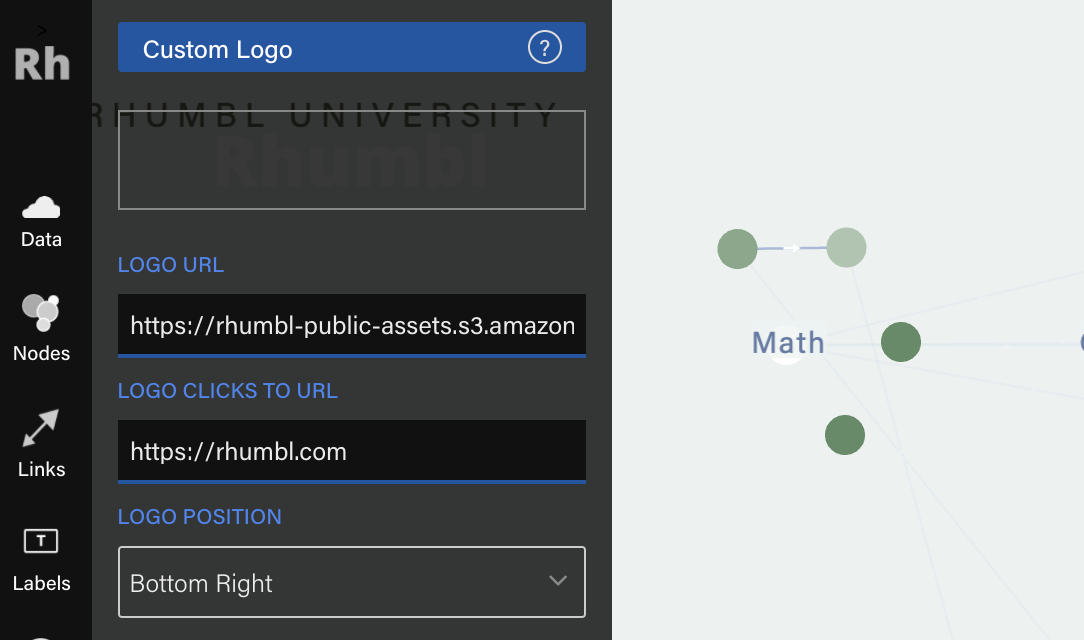 If successful, a preview of the logo will show up in the box above.
You can change the positioning of the logo. By default, logos appear on the bottom right of the map, but there are 4 possible positions: